Information Security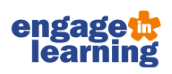 Course Overview
Information is a business asset like any other. It has a value and must be protected. This course covers the essential working practices and guidelines to help you work with information safely and confidently.
Key Learning Points:
Do you know what keeping information secure really means?
Do you know how to set a secure password?
Do you know the laws that govern how you use information?
Course Outcomes:
Employees will be aware of legislative and business reasons for keeping information secure and the means of doing so.
Target Audience
All employees who work with computers or mobile devices.
Duration
37 Minutes