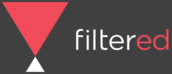 Filtered is an online training platform which personalises learning material for each user. By asking each user questions about their profile, aspiration and proficiency, the platform's machine learning algorithm is able to pinpoint skills gaps and filter out material that the user doesn't need or already knows. This minimises time spent training, maximises the impact of learning and increases productivity.
At Filtered we make training as effective as possible by ensuring learners only digest material that's relevant to them. Our award-winning approach uses adaptive technology to remove content that's not applicable to their role and aspirations, and to provide data driven learning recommendations to get learners to where they want to be - optimally productive in their role.
By asking each user questions about their role, proficiency and career goals, we are able to map such key indicators to competencies and create a personalized and prioritised learning path of just the most relevant learning assets, be they digital, classroom, blended, developed in-house, bespoke, free, or anything else. At the touch of a button we'll provide you with Adoption, Engagement and Impact (AEI) reports to prove it.
WHY CHOOSE FILTERED?
Over 500,000 users worldwide
26% greater improvement than traditional elearning
Personalized learning paths in 30 seconds with globalfilter
Responsive layout to learn on any device, anytime, anywhere
LMS integration