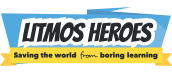 We are saving the world from boring e-learning!
As a business we only have two core values: -
1) We only make e-learning content that we ourselves would enjoy taking
2) We treat customers as we ourselves would like to be treated
We know that e-learning can be boring. We should know because we used to make it. A few years ago we took one of our own courses and realised just how bad it can be. So we sat back and thought: what would e-learning need to look like for us to want to take it and what kind of company do we need so we can make it? From that pivotal day, our organisation was born.
Our approach is to take a subject that matters, boil it down to the 20% that makes 80% of the impact, add in our magic ingredients (story-telling, questioning, gamification and awesome sauce) and then add animation and characterful voice-overs in a conversational tone. Voila! The perfect e-learning course in a bitesize 10-15 minute chunk!
Ultimately we are more than just an e-learning production company. We are a group of people that are passionate about learning and invite you to try something different. We create courses that use the latest discoveries in accelerated learning to deliver the biggest impact to people's lives and careers.