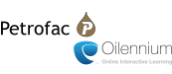 Oilennium has been developing training material for the energy industry for over 10 years. We pride ourselves on delivering training that doesn't just tick boxes, but serves a purpose, contributing to a long-term goal of learning and competence.
Competence and capability are the cornerstones of safety and efficiency. Our training material is highly visual, interactive and engaging; our experience has taught us that people retain much more information when learning this way.
As a testament to the quality of our training material, we became part of the Petrofac Group in 2012.