Assert Yourself - How to communicate effectively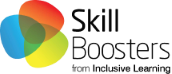 Introduction
Why do work relationships break down? How can you get teams to communicate and collaborate effectively? What causes bullying? Only when people learn to value their own rights and the rights of others do they begin to work peaceably and productively together. This engaging e-learning experience will teach your staff how to have a positive influence on colleagues and customers, by expressing themselves in a direct and coherent manner that is respectful of others.
Employees have hundreds of interactions with other people each working day.
Encouraging key staff to undertake this training will open their eyes to others' points of view, enable them to express themselves calmly, and focus on the task in hand.
Intended Audience
This course is suitable for managers to learn to:
Follow the six steps to assertiveness
Avoid aggressive passive and manipulative behaviour
Disagree without being disagreeable
Give and receive positive feedback
Course Content
Say what you want
What is assertiveness?
The importance of assertiveness
Deciding to be assertive
Communication behaviours
Passive
'Loud' aggressive
'Quiet' aggressive
Identifying your tendency
Laying the foundations
Self-esteem
Positive image
Relationships
How to be assertive
Building up assertiveness
Asking what you want
Saying 'no'
Feedback
Dealing with non-assertion
Development and learning
Assessment quiz
Course Benefits
This course will enable your staff to have a better understanding of:
The disadvantages of aggressive and passive behaviour
The benefits of assertiveness
The way in which you make your point is just as important as what you say
How to disagree without being disagreeable
The 'six steps' to assertiveness
Respect for others
How to become an active team member
Giving and receiving feedback