Developing Leadership Skills - How to manage people effectively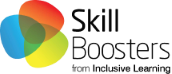 Introduction
Any team leader or manager needs to be a decision-maker, communicator, mentor, motivator and coach. This course equips new and established managers alike with the skills they need to lead and inspire their team successfully. This programme provides guidance on improving and, crucially, maintaining performance.
Intended Audience
This course covers a comprehensive range of leadership-related topics. Aimed at employees with management potential, it has been developed to suit new and established managers with the skills to lead a team successfully.
Course Content
This comprehensive course features over 30 minutes of drama scenarios, techniques and strategies to enhance their management skills. The course content and structure will ensure that your key staff are better equipped to lead and inspire their team.
Course Benefits
This course will enable your staff to have a better understanding of:
Building and leading successful teams
Driving performance
How to motivate and develop others
Assertiveness techniques for leadership
Giving constructive feedback