Get That Job - A practical guide to the job search process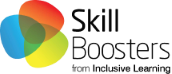 Introduction
Sometimes you have to let employees go, whether to a new job or career, or for internal promotion. The professional response when this happens is to provide guidance and support. This engaging interactive learning experience, formulated in collaboration with HR specialists, CEPEC, gives you the expertise to support staff through what is traditionally a difficult time, helping them identify and build on the key skills they need to make the right move.
Help your staff to sell themselves with confidence.
Encouraging your staff to undertake this morale-boosting training demonstrates that yours is a caring organisation that offers full support in terms of career development or redundancy. Once you are known to offer this service, you will be seen as a preferred employer when the time comes to recruit again.
Intended Audience
This course is for your outgoing managers and staff who will learn to:
Understand their work and careers options
Interview and negotiate with confidence
Produce the right CV and organise job searches
Prepare for successful interviews
Course Content
Skills Analysis
Facing your future
The analysis
Your ideal job
Job Search
Organising
Market research
CVs and applications
Interviews
Types of interviews
Preparation
Get the job
Assessment quiz
Course Benefits
This course will enable your staff to have a better understanding of:
The options available to them
Effective negotiation
Their personal skill set
How to organise job searches
CV and interview preparation
Confident interviewing techniques