Handling difficult conversations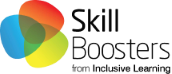 Introduction
It could be addressing someone's behaviour or work performance, breaking the news about redundancies, turning someone down for promotion or trying to get a long-term absentee back to work. Whatever the reason, it's unlikely to be a conversation you look forward to. You'll probably try and put it off for as long as you can, and when it does happen, you'll want to get it over and done with as quickly as possible.
Being able to approach these kinds of conversations constructively is a crucial skill for managers. A positive outcome can mean the difference between an employee becoming engaged and productive, or getting increasingly dissatisfied, going absent or even making a grievance claim.
Skill Boosters new training uses powerful original drama and expert insight to look at how to approach difficult conversations in a new light and turn that tough talk into a positive dialogue that achieves the outcomes you want.
The training will focus on:
Why conversations go wrong: The most common mistakes we make when having a difficult conversation, and how to avoid them
Planning ahead: What we can do to prepare in advance for a difficult conversation
Effective communication skills: Getting the message across and knowing when to listen
Dealing with angry people: How to stay calm and defuse the situation
Getting to the root of the problem: Knowing when and how to dig a little deeper
Negotiating and agreeing a way forward: What happens next