KAZ Typing Tutor for Business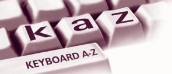 Introduction
Most people use a computer to create business letters, reports and presentations, but few have had any formal keyboard training.
KAZ typing course helpsto improve typing speed and accuracy. The course takes, on average, just 90 minutes to complete and improve keyboard skills.
Employees with poor keyboard and typing skills can cost businesses time and money, while errors and inaccurate documents look unprofessional. This course will help employees gain confidence and improve their typing skills, allowing them to focus more effectively on their work.
Who is the course for?
This course is ideal for anyone who wants to learn how to touch-type or improve their keyboard skills.
No prior knowledge or experience is needed and there are no formal entry requirements, however some basic computer skills are required.
What will you get from this course?
When you have completed this online typing course, you will be able to:
identify the location and finger layout for the A-Z keys
touch-type words, numbers and punctuation keys accurately
use the keyboard without looking at it
apply your typing skills to your work.
Course features
You can start this online course straight away and access it at any time, providing you have access to a computer with an internet connection. The course is available for six months from the date first accessed.
The easy to follow, step-by-step format of this course allows you to be in control at all times so you can work through the course at your own pace. This typing course includes several task-based exercises that provide immediate feedback to reinforce your learning.
A Speedbuilder tool allows you to practice the skills you have learned and improve your typing speed and accuracy.
Course modules
1. Flying Start
2. The Basics
Learn to touch-type in 90 minutes
3. Just Do It
Exercise and apply your new touch-typing skill
4. And The Rest
Learn Shift, numbers, and punctuation key
5. Speedbuilder
Daily practice to build speed and accuracy