The Write Way - How to write effective correspondence and other documents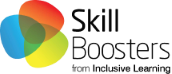 Introduction
How happy are you with the communication skills of your employees? E-mails, letters, reports and proposals that are hard to understand and contain simple errors send a careless, unprofessional image of your organisation. Created in association with Ellerton Training Services and the Plain Language Commission, Skill Boosters' interactive e-learning course will show your people through practice how to produce clear, persuasive writing.
The most effective documents are those that are easy to understand.
Intended Audience
This course is suitable for all managers and staff who wish to:
Focus on the reader and the key message
Use simple, direct phrasing
Adopt the appropriate style and tone
Use correct grammar, spelling and punctuation
Course Content
The basics
Examples of effective and ineffective writing
Common mistakes
Structure and layout
Using a logical structure
Using images for impact
Avoid ambiguity
Style and tone
Selecting the appropriate tone for your audience
Using the 'active voice'
Grammar and punctuation
Common punctuation errors
Avoid sexism
UK vs. US English
Writing Letters
Presenting the right image
Effective layouts
Avoid stilted phrases
Writing Emails
When to use email
Email as your ambassador
Flame mail
Writing Reports and proposals
Effective structure
Tables
Line spacing
Writing Minutes
What are minutes?
Sharing information
Taking and transcribing minutes
Assessment quiz
Course Benefits
This course will enable your staff to have a better understanding of:
How to communicate clearly and concisely
How to create logical structures and clear layouts
Appropriate style and tone
How to avoid grammar, spelling and punctuation errors
The importance of checking before sending
From keying short emails to creating detailed proposals, it is vital that your staff get across their key message and are seen to be professional representatives of your organisation. Our training solutions allow learners to focus on the types of documents they need to write and the information they routinely deal with.