Under Pressure - Successfully coping with stress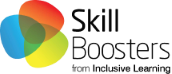 Introduction
Stress is a necessary component of peak performance since we all need some pressure at work if we are to realise our potential. But, equally, we all know how destructive too much unnecessary stress can be over a long period of time. Unfortunately, lean organisations and a long working hours culture has led to stress becoming one of the major causes of absence from work today. Employing expert contributions from, Professors Ivan Robertson and Cary Cooper, this e-learning course can help your organisation manage the problem.
Protect the psychological and physical health of your people.
Intended Audience
This course is suitable for all managers and staff who wish to:
Recognise the 'stress zone'
Work smarter, cope better and avoid panic
Help colleagues cope and deal with bullying
Build a better work/life balance
Course Content
Part 1 – Think Smart!
Includes Understanding stress
Symptoms of stress
Part 2 – Work Smart!
Includes Plan your day
How to say no
Part 3 – Relax
Includes Progressive muscle relaxation
Visualisation techniques
Stress busters
Checklists
Assessment
Course Benefits
This course will help your staff to:
Recognise the 'stress zone'
Assess their vulnerability
Cope better and avoid panic
Work smarter
Achieve work/life balance
Support colleagues
Deal with bullying
Learn relaxation techniques
Under Pressure will teach your staff to successfully cope with stress. It will give them fresh insight on how to handle pressure, show them how to identify the early signs of stress, and arm them with a range of preventative measures.