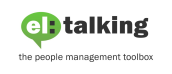 Over the years we came to realise that too many e-learning resources for managers were developed and priced to appeal to large companies only. The video tutorials or e-learning modules for managers were expensive and they required customers to have their own LMS to which you could upload resources. This made the majority of online management training tools inaccessible to smaller businesses on the grounds of cost and platform.
el:talking sets out to change the rules. In fact we're throwing them out by making our tools and resources flexible and affordable enough to be accessible to all.
As managers, trainers and coaches, we know what the market needs and we will be expanding our library of management resources on an ongoing basis. We have already curated an exciting range for SMEs; video based and interactive, a modern take on the old fashioned e-learning of the past.